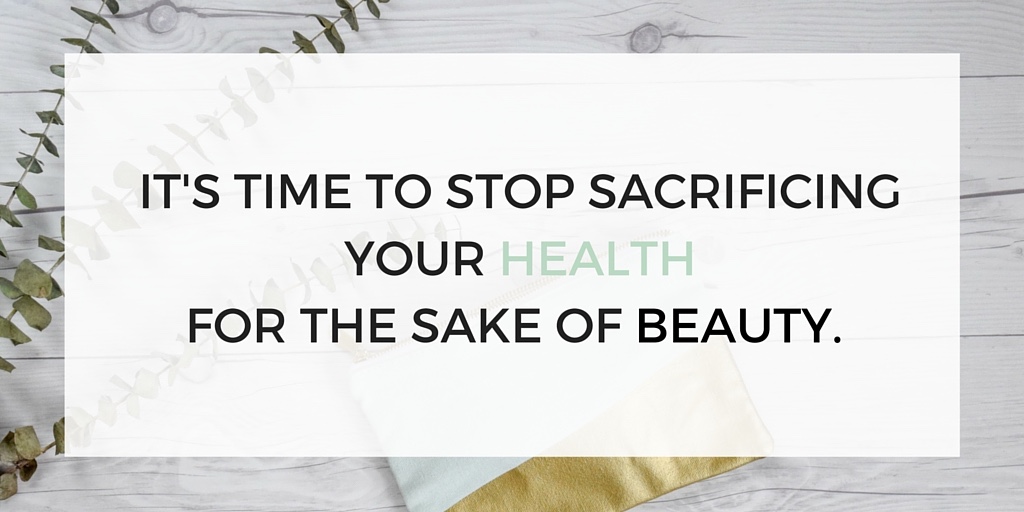 Are you a beauty addict who loves to look glam, but you've realized your favorite products have some seriously questionable ingredients?
If you are sick of being duped by all natural marketing claims and want to know for sure that you are buying a product that is safe for your body and worthy of your dollars, this program is for you.
The beauty industry is rampant with harmful ingredients like parabens and phthalates that can cause endocrine disruption, oxybenzone that can cause skin sensitivity and synthetic fragrances that lead to a host of health issues.
Beyond these big bad guy ingredients, are you confused about ingredients such as Japanese honeysuckle, phenoxyethanol, and FD&C dyes? How's a girl supposed to choose!
Girl, I've got. you. covered.
---
In Clean Beauty Academy I will teach you...
- How to avoid greenwashed products simply by being able to scan an ingredient label in no time flat.

- To look past the marketing claims of clean, green, natural, non-toxic or organic and decide for yourself if a product is safe for you and worthy of your dollars.
-18 of the most offensive chemical ingredients in your beauty products. You'll learn what they are, what they do, why you might choose to avoid them and how to detect them easily on an ingredient label.
-To use my Better Beauty Method Workbook to de-tox your current beauty collection efficiently figure out which of your current products make the Clean Beauty cut.
---
I have also created exclusive Clean Beauty shopping guides to products, brands and retailers.
This course is not a list of rules, it's a tool. You will learn all the necessary information you need to make safer, better beauty choices. All of this information is customizable to your lifestyle and what feels right to you.
You'll gain access to four video modules immediately and you have lifetime access to the program as long as it exists. You can work entirely at your own pace and there are no deadlines or homework to turn in.
I give you everything you need to know to become a conscious, wise, empowered consumer of beauty products in a time efficient manner. I know you're sick of piecing together information from Google searches, Pinterest and blog posts. This is your one stop shop to label reading right here.
Clean Beauty Academy will teach you everything you need to know, plus systematically walk you through curating your own beauty stash using the method I personally used and continue to use to this day.
I used to feel just like you do now - overwhelmed and unsure where to start. I've transitioned completely to using Clean Beauty products. It took me forever to put all the pieces together and find products that made the Clean Beauty cut and were also amazing. I've already done the time consuming, hard research for you!
Guess what: it isn't hard once you know the right strategies.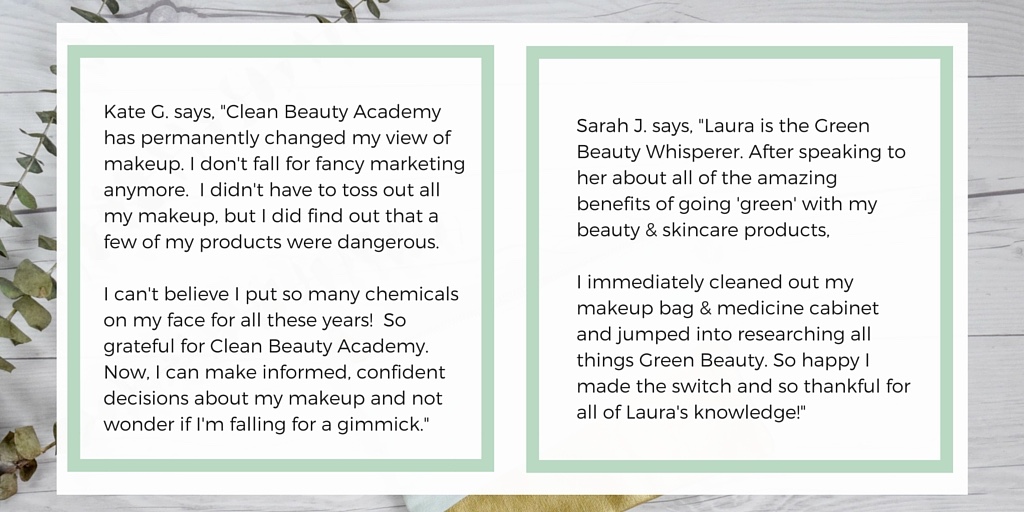 This course is for you if....
You have to ask "is this brand / product clean?"
You are ready to stop compromising your health for the sake of beauty.
You are sick of being duped by greenwashing.
You want to understand how to easily read ingredient labels.
You want to know which ingredients to steer clear of.
You want to feel empowered that you can make smart, safe beauty product choices.
You are willing and open to discovering Clean Beauty products.
You want to know everything you need to know about Clean Beauty....and fast. Oh, and all in one place.
This course is not for you if...
You aren't concerned about the harsh ingredients in your beauty routine.
You're unwilling to try new beauty products.
You can list 10+ dirty beauty ingredients you avoid and why you avoid them.
You already consider yourself a Clean Beauty Purist.
*Disclaimer : This program does not claim to treat or prevent any disease.*
Your Instructor
Laura Ehlers is the Clean Beauty Advocate, Nutritionist and Wellness Warrior behind LaurasNaturalLife.com. Laura's mission is to help every woman live their own green, gorgeous life. Laura has worked in holistic healthcare and holds a Master's Degree in Nutrition and Health Education. Her written work has been feature in Well Being Journal and barre3 Magazine.
Course Curriculum
Introduction
Available in days
days after you enroll
Module One - Clean Beauty 101
Available in days
days after you enroll
Module Two - Clean Beauty Beginner
Available in days
days after you enroll